Image to text converters are online tools that can extract text from non-editable files such as images or PDF files. They can be utilized in various ways. For example, you might need to edit a document that is in the form of a physical file. You can simply take images of the document and then insert them into an online Image to text converter. The results will be in the form of text that can be edited.
Before discussing some of these tools in detail, let us explain how they work.
How Do Image to Text Converters Work?
An image to text converter makes use of a technology known as Optical Character Recognition. This technology is able to detect text characters in an image and then convert it into an editable format. 
There are many different ways by which Image to Text converters are able to recognize text. For instance, some of them convert the inserted image into a black-and-white format with high contrast to detect the text more easily. 
After that, they match all the text characters in the image with the characters in their database. The text is then translated into the characters that most closely match the characters in the tool's database. For example, if a circular character is present in the image, the tool will convert it into an "O" or a zero depending on the image's clarity.
Now that the working of these tools has been explained let's look at some of the best image to text converters available online. First, we will talk about the tools that are available completely for free.
Best Free Image to Text Converters
The tools given in the following are totally free and can be used without any login or sign-up. 
OCR.best is an image to text converter that can extract text from images without any daily limit. It has a user-friendly and smooth interface. Even first-time visitors are able to figure out the tool's working by themselves. Here is an image of its tool page:
The tool offers a variety of input options. You can upload images from your computer, upload Google Drive files, use images from website links, and even Dropbox files. Similarly, the output optimization options are also pretty decent. You can copy the whole generated text with just one click. Additionally, you can also download the text in the form of a document or a file.
The text extraction tool by EditPad is also a free image to text converter. You can use this tool without any registration. Images can be uploaded in 2 ways. You can upload images from your PC, or you can enter a URL. The tool is able to detect images on the web page and extract text from them.
When the text extraction process is complete, the results are shown to the user. This result can be copied to their (user's) clipboard. The optimization options are not very vast, but the results are very accurate. The order of the extracted text is exactly the same as in the image. Such precise results make this tool a great pick among free image to text converters.
It is an Image OCR tool that can convert images of multiple formats into text. This tool is able to extract text even from low-resolution or blurry images. This is possible due to their tool's image processing procedure which includes:
Scanning

Location Segmentation 

Feature Extraction

Training and Recognition
Due to such extensive processing, this tool is also able to convert low-quality images accurately.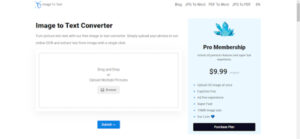 Some additional features, such as being able to upload multiple large-sized images at once, can be unlocked by buying the premium plan of this tool. 
Similarly, this tool is also able to detect mathematical characters in an image as well. The machine learning-based algorithms of this tool allow it to recognize things like quadratic equations and polynomials. On top of all these features, it also has multiple language support. It has over 15 supported languages.
Best Paid Image to Text Converters
The tools listed in the following can be used for free. However, their free versions have a few limitations. These limitations can be removed by subscribing to their respective premium plans. Let's get started:
Imagetotext.info is a text extractor with the most affordable premium package. The free version can convert 3 images per submission. In contrast, the premium version can convert up to 50 images. The image size is also limited in the free version. However, premium users can upload images with a size of up to 10 MB. 
This tool comes with different modes. These modes allow you to have the outputs in various formats. For example, with this tool, you can convert PDFs into MS Word files. Similarly, there are numerous other possibilities as well. 
The AI-based deep-processing algorithms allow this tool to provide the most accurate results. Because of this technology, you can also convert old documents, handwriting, and newspaper into an editable text form.
Pricing and Plans
The premium package of this tool is loaded with features and can drastically improve the user experience. It has reasonable pricing. Its details are given in the image below:
The features of all the plans are similar with a few exceptions. You can select any of these plans based on your need or the nature of your work.
Picture to text by Prepostseo
The image to text converter of Prepostseo is a reliable and trustworthy online tool. You can even convert sensitive or personal documents into text with the help of this tool. This is because this tool does not save any of your information. In this way, all your data remains secure.
The free version of this tool doesn't have a very smooth experience. If you subscribe to the pro plan of this tool, you can get rid of advertisements and, as a result, make the tool much faster. This subscription also allows you to enter up to 30 images at once. In other words, this tool is able to provide the quickest text extraction service.  
In this tool, you can even copy and paste images into the input section. This can also speed up the text extraction process in some cases. So, if you are looking for a tool that can convert large amounts of documents in a short time, then this tool is a good option for you. 
Pricing and Plans
Some of the features of this tool's premium plan are already discussed. If you use this tool for free, you often have to go through a captcha verification process. Similarly, there are a lot of ads covering the tool page, which makes the interface a little confusing. 
The premium plan gets rid of all these issues. Its pricing details are given below: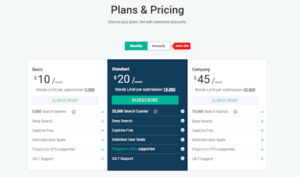 Final Words
The valuable text information inside an image is not usually accessible. You cannot copy or edit this text. That's why you need Image to Text converters to access this valuable information. Some of the best online tools regarding this are given in the article above. They can be used for free. However, if you want to unlock the complete features of these tools, you might need to buy a monthly subscription for some of them.