Outreach Marketing 
Outreach marketing is the act of reaching out to people or groups who share your interest in what your company or you have to offer. It is sometimes used in conjunction with direct selling, but it is often used for bigger goals like branding, but if we talk about outreach definition then it is about leading in any business products or services.
What is Outreach Marketing?
Outreach marketing is a strategy for marketing that involves pitching your content to influential people who are connected with your target audience. Thus, outreach marketing is also known as influencer marketing.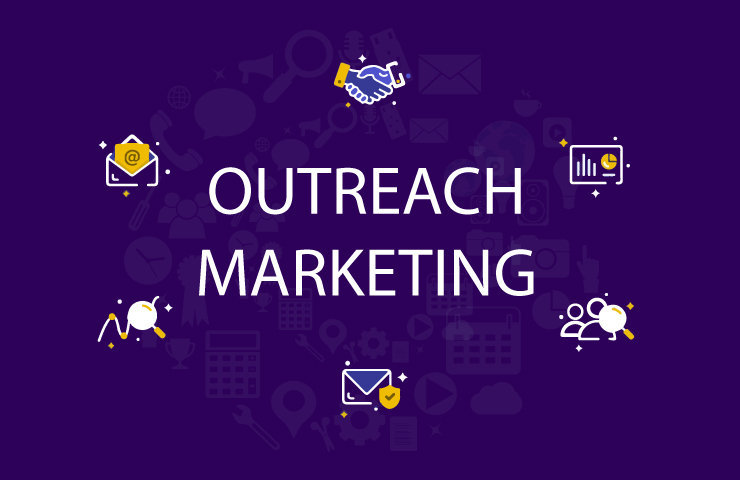 What does outreach mean?
The meaning of outreach is to find people and organizations with audiences who share your interests, needs, and problems. After identifying these individuals and organizations, you can reach out to them, asking for their endorsement of your content. Outreach marketing involves partnering up with influential people to promote your company. Influencers can be a link between your company and your target customers and give you visibility and popularity.
It's a great way for you to increase your traffic and credibility, as well as to promote your work to hundreds of thousands of people. It can also lead to positive outcomes if you partner with an influencer. People are more inclined to trust recommendations from friends, celebrities, and other social media users than traditional ads. Therefore, your business will only grow if you have a solid outreach marketing strategy that includes ads.
Most popular outreach marketing strategies you should definitely try
Guest blogging:
For our visitors who don't know about guest blogging, here's a helpful definition: This is the act of writing material for another company's website. Guest bloggers usually write content for blogs in their industry to:
Attract more traffic to your website

External links to domains with high authority domains can help boost their domain authority.

Increase brand awareness and credibility

Establish relationships with peers from their industry.
Guest blogging can often bring mutual benefits to both the guest blogger and the website hosting the guest post. Guest blogging is a two-way road. If you are interested in guest blogging, it's a good idea to feature guest bloggers' posts on your website.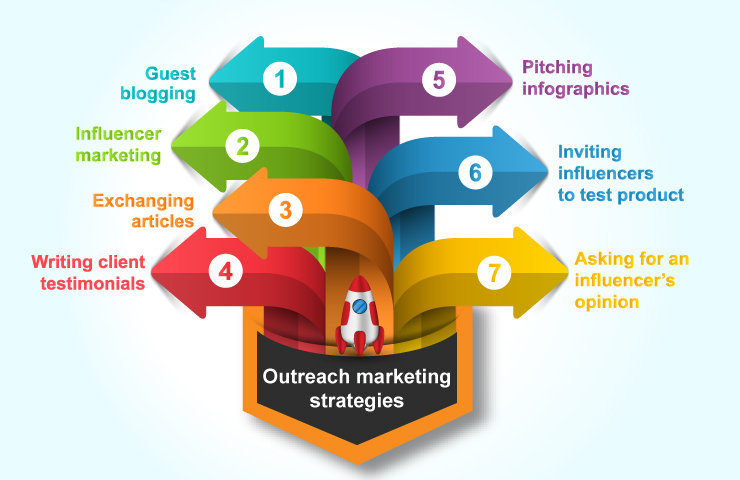 Influencer marketing refers to a type of social media marketing that involves endorsements and product placements from people and organizations with a purported expert level or social influence in their field.
Exchanging articles:
Article Exchange is a secure online platform that allows lending libraries to place articles for interlibrary loans. Users can upload files to be picked up anywhere in the world. However, only authorized users can download the file.
Tracking your company's mentions:
There are 5 Ways to Track Your Company / News Mentions
1. Set Up Google Alerts
Google Alerts is one of the most useful and simple products. Google Alerts allows you to create your news feed and deliver it to your inbox when breaking news warrants. In addition, logging in today will give you access to your name and email address, which was unavailable to the average newshound. It's very handy!
2. Monitor Both Inbound and Outbound Mentions
Keep track of both outbound and inbound mentions of your brand to get a full picture of the media. Links to your website are important for brand visibility. Trusted, authoritative sources mention your brand and provide a measure of your PR efforts' success. It is important to keep growing mentions over time.
3. Use Open Site Explorer to Review Inbound Links
While links and mentions are two distinct entities, they often appear together. Moz's Open Site Explorer can help you find new links to your website as they appear. In addition, you can use your inbound link portfolio to better understand what people are saying and help you improve your SEO results.
4. Try Social Mention for a Free Alternative
Social Mention has three major advantages. First, it captures mentions from other social networks than the "Big Three," such as Digg, YouTube, and YouTube. Second, it's keyword-focused and doesn't require intelligence gathering. You can just jump in and get all the information you need. Finally, it's also completely free to use.
5. Augment Google Alerts with Mention
Mention allows you to set up custom alerts, just like Google Alerts. It also allows you to reply to your mentions directly from the app. In addition, you can generate a report in one click so that you can monitor trends. It is affordable and comes with a 14-day free trial.
Writing client testimonials:
A testimonial is essentially a recommendation or review from a client. It lets other people know how your products or services have helped them. Although customer testimonials come in many forms, the purpose is to show how great your brand is. Customer testimonials are better than paid marketing copy because they shine the spotlight on the customers and take away the focus from the seller.
Your testimonials page is a great place to start seeing things from the same perspective as your past clients. All of your potential customers were once potential customers.
It's a great way to show how others have benefited from your services.
Pitching infographics:
Tips for "pitching" infographics
First, make sure the infographic is relevant. Believe it or not, this isn't a given.

Give the blogger a few ideas based on your infographic data. 

Make the infographic easy to use/insert into their blog. 

Create your own post–make it shareable for others.
Why is Outreach Marketing Important?
Are you creating quality content and sharing it well? Are you using all social media platforms and emailing your subscribers to stay connected with your target audience? Is your traffic still low? Unfortunately, this is not uncommon, even though it can be frustrating.
It is not an easy task to grow a business. The younger you are, the more work it will take. You can still accomplish more if you do everything possible but still have little or no growth. Outreach marketing is one of the most powerful marketing strategies you can try. Outreach marketing can help your business gain visibility, credibility, and fans. These three factors are crucial for your business' growth and for building trust with your target audience.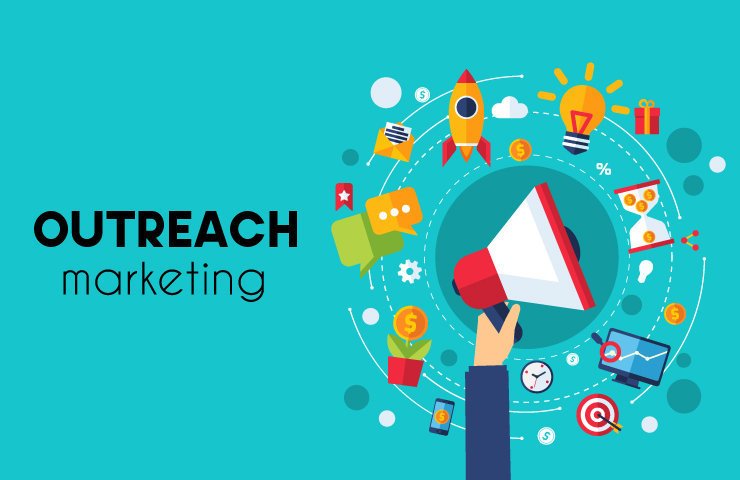 Your business's fans can become customers. Visibility leads to more people learning about your products and services. Credibility makes it more likely that your target audience members will engage with your company, make a purchase and then tell their family, friends, and coworkers. Outreach marketing can help you open doors and lead to lasting growth.
What is the Process of Outreach Marketing?
There are several steps that you need to take to execute outreach marketing successfully. You must first identify influential people. Then, build a relationship with these people, making them more likely to share your content and work with you.
1-Identifying Influential People
To identify influencers, there should be certain criteria. The following are some of these criteria.
 Activity
The ideal influencer must be active on social media. They won't be able to reach new audiences if they haven't blogged, tweeted, or posted in the last year. Even if they agree to promote your content, it is likely that they will not gain much traffic.
Relevancy
This means that you must choose an influencer who is related to your business. For Example, if you sell content management software, then your ideal influencer must be connected to online businesses. No matter how well-known they may be, you wouldn't want them to be known for making makeup tutorials. They won't mesh their brands, which can lead to more confusion than excitement among their followers.
Engagement
Consider the potential influencers in your network. Are their posts getting likes, comments, and retweets? Is the influencer able to respond to followers' comments and start a dialogue with them? It is important to know how engaged the influencer is with their followers. This will ensure that there is a conversation about your company, product, or services.
2-Relationship Building
Once you have identified an influencer, contact them by email. If that fails, you can try to connect with them via email or direct message on their most popular social media platform. You can try to pitch your idea for a partnership with them.
Make sure your pitch is clear and concise. Also, mention the benefits that your influencer will get from working with you. A strong pitch can make all the difference so put your best foot forward.
Benefits of Outreach marketing
These are the following benefits :

Increasing your online presence
This strategy will allow you to expand your reach across the globe. Partner companies can promote your brand to their loyal customers. Your audience will grow by this partnership, even without you participating.
Improving the quality of content
It is possible to draw more people by optimizing and localizing website content. To reach a wider audience, you can learn from successful writers and bloggers. In addition, you can modify existing strategies to promote your products and services.
Personalized approach
It would be best if you gave your web content a personal touch. Blogs and links can help you create a personalized approach for your clients.
Creating and empowering collaborations
Small businesses can pool their resources and help each other expand the customer base.